Starfish Suite – 0-2 yrs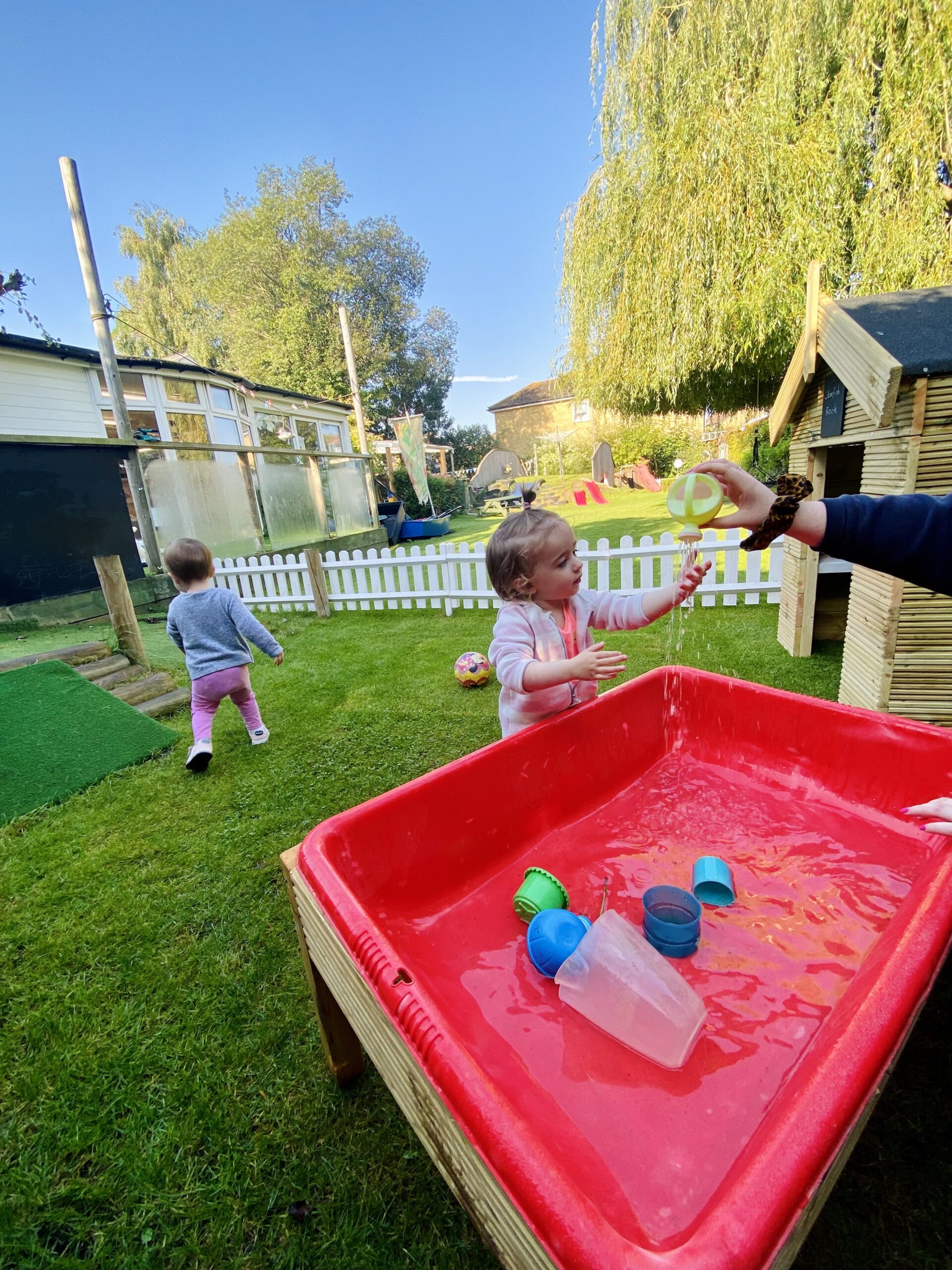 Our Starfish suite is designed and resourced for children from 0-2 although this can differ depending on the needs of the individual child. The suite is designed to offer a homely, nurturing environment with all the advantages of a well-resourced nursery. It has both an indoor area and a garden to nourish and stimulate children's development.
Our suite is fully equipped with its own kitchen, nappy changing and toilet facilities.  It has a floor to ceiling window giving panoramic views over our large grass area.  The room is part wooden floor for indoor messy play and a dining area and part carpet for soft play.  The large, safe outdoor area includes a dedicated grass garden, playhouse and climbing frame.
For most children and families starting Starfish will be their first experience of separating from their main parents/caregivers and to ensure that this process is as smooth as possible a two-part induction and settling in session is arranged for all families. The children have such individual needs at this age regarding sleeps, feeds and weaning etc, and the induction enables their individual routine to be shared and to become embedded into ours.
As a setting we understand the constant development and learning that takes place in under 2's.  Our highly qualified staffing team work on a maximum ratio of 1:3. Each child has a key person who is their main caregiver at nursery.  They support the child's routine needs, updating parents on how their child is settling in and engaging within the room.
At this stage young children learn by exploring the world around them and are very sensory beings. We ensure there is lots of varied experiences for them to explore!
Inside is designed to support all aspects of the curriculum. Children learn to be active learners by problem solving, becoming imaginative with small world toys and puppets, and becoming avid book worms in our cosy reading areas. Sand and creative play are readily available both inside and out and the team set up different activities daily to encourage exploration. The Starfish garden offers different terrains such as grass, mud and water and offers a wide range of equipment for role play such as the playhouse and mud kitchen.
In our main building we have a separate gym space which is frequently used by the under 2'.  This houses a sensory area where the children learn by tactile exploration and a soft play gym perfect for developing gross motor skills and the important tummy time.
The exploration doesn't stop inside the setting, our starfish children get to go on frequent walks in our 6- and 3-seater pushchairs; they visit local parks, local wildlife at Hadleigh country park, the woods and the library.
Staff form extremely strong bonds with the children and their families enabling continuity between home and nursery.  Our parents have the peace of mind that their babies are loved and nurtured while in our care.