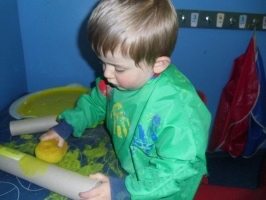 Our Seahorse room and team welcome children from approximately 2 – 3 years on a ratio of 1:4. It is a large, airy room which has double doors that lead to their own covered outdoor area. Both the inside and outside areas have been purposely designed for this age group. Modifications are often made to ensure individual's needs and interests are constantly being met. Inside there is a Home corner which provides opportunities for children to re-enact real life situations using different everyday tools such as the telephone, this also helps build children's imagination skills.   The children have free access between the inside and outside. All areas and resources encourage their natural interests and curiosity. The children have very strong links with their key person and buddy, who know their needs, likes, dislikes etc. Our dedicated staffing team provide opportunities for the children to develop their understanding and skills through carefully selected resources and play opportunities. Children's confidence is able to flourish within this environment whereby they are involved in the routines and are given the freedom to think independently, make their own choices all of which are valued and respected.
Ofsted Report 2013 Children are offered an exciting blend of adult-led activities and experiences that they choose for themselves.  Staff are skilled knowing when to interact with children to extend their play and learning and when to allow them to play without their direct involvement.
There are routines throughout the day which the children soon become familiar with such as knowing to put on coats or sun cream prior to going outside, taking turns to select an item from the song sack and joining in with the selected song and knowing that we wash our hands before eating. Such routines allow the children to feel very secure and confident within their environment. Children learn best when feeling safe, have a sense of belonging are happy and active and can relish in a stimulating environment.
Using language is a powerful means of widening contacts, sharing feelings, experiences and thoughts. Our staff throughout the whole nursery recognise the importance of good, clear, concise communication with the children, whereby what they have to say is listened to and responded to appropriately where possible extending vocabulary, enunciation and understanding. Children aged between 2 and 3 are often ready for potty/toilet training. We are aware of the child as an individual and aim to provide the necessary support, encouragement and praise that he/she needs, working together with parent/carers, sharing information on a daily basis in relation to their child's day. We recognise that many children still need a sleep/rest during their day at nursery. We provide individual beds, cots and bedding and work with families to meet individual needs. We encourage partnership with parents and exchange information verbally at the start and end of each day. We invite you to phone and speak to your child's keyperson/buddy during the day to maintain good communication, support your child's development and for peace of mind. Government funding for two year olds for those families who meet the criteria Various Extra curricular sessions in term time – Sing/Sign and  Gardening and Growing Daily Letters and Sounds activities  
A Look Inside Seahorse