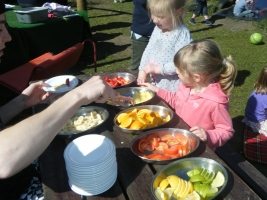 Sandcastles provides seasonal menus offering wholesome, nutritious foods which meet government guidelines and recommendations.
We have a full time chef who prepares two cooked meals a day for our children to enjoy, fully supporting the individual needs and stages of the children. We invite families in to liaise with our chef, ensuring that special dietary requirements e.g., allergies, religious practises, cultural diversities, are catered for.  We aim to meet all individual needs and minimise the risk of any allergic reactions.
Through staff interaction, children learn about healthy foods and the importance of good hygiene.  Fresh drinking water is available for all the children throughout the day, with milk and fruit juice being offered at certain meals. Children are also offered snacks throughout the day and fruit is readily available and visible in all rooms.
To continue our parent partnership approach, we ask for feedback on our menus when they are being implemented and recipes are available to share at home.
Sample Menu
WEEK 1

1
2
3
4
5

SNACK

Rice Cakes and toppings 

 

Fruit

Pitta Bread

(Cereals Containing Gluten)

Vegetable Sticks and humous 
Cheese and Crackers

 

LUNCH

Tomato and Olive Pasta

(cereals containing gluten)

Shepard's pie and vegetables (cereal containing gluten)

Roast Dinner

(milk)

Homemade Turkey Burgers with potatoes and vegetables 

(Egg)

Chicken Curry

(Cereals containing gluten)

Fruit Salad

Yogurt

    (milk)

Ice Cream and Berries 

(milk)

Rice Pudding

(Milk)

Fruit Sorbet sticks 

TEA

Chilli Con Carne served with rice. 

(Cereals containing gluten)

 

Salmon, Broccoli and Tomato Pasta

(Cereals containing gluten)

Baked Bean and Cheese Jacket Potatoes

(milk)

 

Beef and Vegetable casserole served with rice

 

 

Macaroni cheese and vegetables 

(Milk, Cereals containing gluten) 

 

 Flap Jack

Fruit Bar  

(Cereal Containing Gluten )

Fruit

Banana Split

(Milk)

Cake(Cereal Containing Gluten)
Various allergens are named under the above food that contain these referring to The food Information Regulation 2014 list which consists of 14 major allergens.A choice of water and diluted fresh fruit juice is served with every lunchtime meal. At snack and teatime a choice of water or milk if offered. Celery, Cereals containing gluten ( Such as wheat, Rye, Barley, Oats), Crustaceans, Eggs, Fish, Milk, Molluscs, Mustard, Nuts, Peanuts, Sesame Seeds, Soya. For more information visit food.gov.uk/allergy or nhs.uk/conditions/allergies